The last few months have seen a flurry of activity at Modern Interface! We've recently launched two new sites, and have a couple more coming very soon. Schemes are in the works for a vastly expanded and updated website for your very own ModernInterface.com. Stay tuned for more details!
New Sites
FundAmerica is a crowdsource tools provider that needed a major update to their website. We took the existing concept, and re-designed it from the ground up. All graphics on the site were retooled by our talented designers.  You can check it out here: FundAmerica.com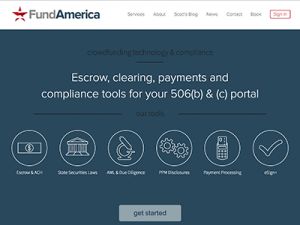 On the other end of the service spectrum was Endeavor College Prep, a charter school network in the Los Angeles area. Endeavor had a design mocked up, but they needed it programmed in WordPress. We created a custom coded theme according to their specs, and they filled in the content.  EndeavorCollegePrep.org

We've Moved!
Well, digitally speaking. Instead of your bits having to go all the way out to the midwest, they now are taking a relatively short trip to Santa Clara, CA. Making the move has cut our ping time in half! We're down to 40ms from Portland to Santa Clara and back! We've also beefed up what's under the hood, and connected to some very fat pipes. Our bandwidth allotment is now measures in TeraBytes. We could stream a full length movie 1000 times a month and not run out of bandwidth.
What does that mean practically? Super fast page loads and response times for all our customers.