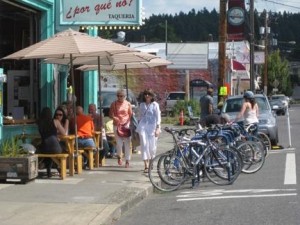 Why should you care about digital marketing in Portland? After all, isn't Portland one of those hyper-local places where people just know where businesses are and what they are about? Isn't part of the fun discovering new places on foot and by word of mouth?
Indeed, this is true. However, people are steadily migrating to Portland, despite economic conditions. Rents are being raised at astonishing rates. To help guide newcomers to your business, a focused digital marketing presence is required. An aggressive campaign with annoying ads can be distasteful and expensive. But being there when a customer is looking for you is a different story. Being accessible, helpful and downright appealing draws in the perceptive, intellectual customers you are looking for. Skill is required to pull this off properly.
Besides newcomers and city visitors to Portland, most long-time residents look up new places frequently. Businesses are searched in a number of ways, mostly via Google. But, other directories, whether websites or apps, especially those with reviews, such as Yelp, are also widely used, sometimes just to find out whether a restaurant has gluten-free options or is kid-friendly.
Whether the result of a search engine, a casual social media mention on Facebook, a tweeted video or a direct hit, customers either land at your website or a listing before buying. All of the above (your "total web presence") need to be accurate, inviting, helpful and consistent.
Wouldn't it be great if there were creative types, who were also business experts, who could pull off a great experience for your customers? There are! Modern Interface is a small collaborative company with combined degrees and experience in both business (U. of Ala.) and art (Art Center in California). Our experience is well-rounded: advertising, web programming, branding, graphic design, business development and administration. We consult, research, target, plan and execute.
What we desire is to help our clients grow by making best use of awesome technologies at a low cost. We refine our processes, improving them constantly, and personalize each experience. And we often have a lot of fun working with our clients! We're here because we love it. The internet is a fresh and fun place to work. Putting smiles on our clients' faces is the cherry on top.
Any questions about digital marketing? Ask below!