Our client, FundAmerica, was in need of a complete website redesign and rebuild. We rethought their content into a great new visual design that clearly and effectively expresses the complex financial technology services they provide.
We launched the new website on November 20, 2014. Six months later, things are going incredibly well.
Baseline
Analytics from the old site are not available, so we used the first 30 days of the new site's life as the baseline.
Traffic Results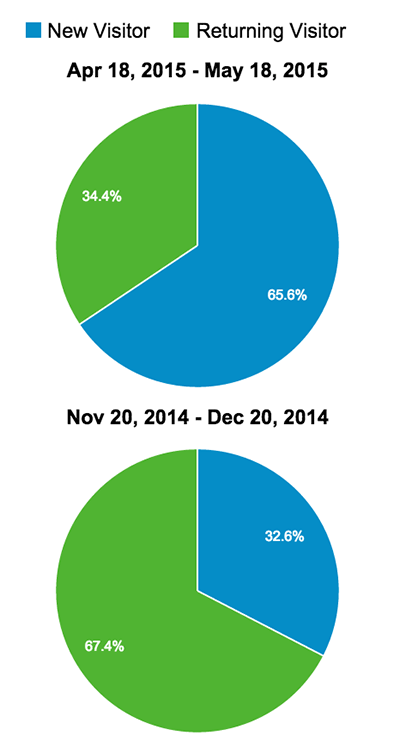 If you need a refresher on Google Analytics check out this blog.
Sessions were up 400%
Total New Users jumped an incredible 800%
New User %: 66% vs 33% (see graph on right)
Organic Traffic share – up 1220% (to 49% share)!
Analysis: Overall traffic more than quadrupled. New users dominated, which is exactly what you want to see with an SEO campaign. Direct traffic (typing in or clicking a bookmark) more than doubled and Search traffic increased dramatically, rising to almost half of all visitors.
Bottom Line: Google thinks the new site is worth putting high in search results, and users are validating that choice by clicking through. We call this a huge success, and can't wait to see the progress at one year.